As the days become longer and temperatures start to rise, all we can think about is the fresh spring air and long awaited warmth as the new season unfolds.  The new seasons can also bring a few new challenges. In the case of spring, and the summer that follows, one of those challenges is an increasing occurrence of thunderstorms and the power outages that can accompany them.
As a homeowner it is crucial for you to protect your home and family from storms and power outages. If you are caught in a power outage you might find yourself sitting in the dark, unable to run your air conditioner, television, appliances, and in some cases your water well.  Even worse, you can possibly lose all of the food in your refrigerator and freezer.
The most common way to prevent these adverse consequences is by using an electrical home generator to power your home. If you are thinking of purchasing some sort of generator, or you own a portable generator now, you will want to continue reading. In this article you will find information which may help you decide what generator is right for you and your home.
Portable vs Standby Generators
Generators for use in powering homes fall into two very broad categories, Portable and Standby.
Portables are widely available and in common use. They are sized from very small camping and hobby sized 800 watt units that are typically little help in power outage, to 15,000 watt behemoths that take a body builder to move very far over uneven ground.
Standby generators are units that are permanently installed outside close to a home. They are typically connected to the home's gas or propane source, but in the absence of either, can run on diesel fuel.
Standby generators are permanently connected to the homes electrical system and typically controlled by an automatic transfer switch. The automatic transfer switch senses utility power and springs into action within a few seconds of a utility power outage. It will also turn off when power returns after waiting a few minutes to be sure power is reliably back full time.
They are typically no smaller than 8,000 watts (8KW), and 25,000 watts is the typical large home generator. Very large homes and estates can use commercial rated generators that can exceed 100,000 watts, but that is rare.
Comparing Types of Home Generators
Portable Generators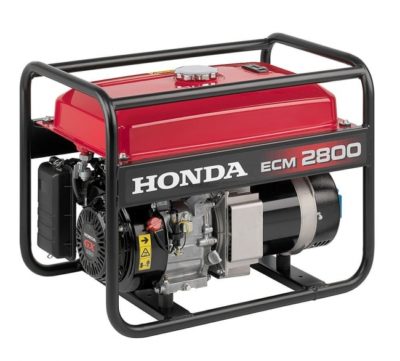 Pros:
Much less expensive than Standby generators.
Smaller and more compact.
Easily purchased locally at specialty retailers, hardware or big box stores.
Can be borrowed from a friend or relative across town that has power.
Cons:
You must store it somewhere inside out of the weather.
You must move it into place (may be difficult for a large portion of the population).
You must make each and every connection from the generator with an extension cord. (One or a large number of connections).
You must start it yourself, often after a long period of no use.
Requires refueling with a limited run time in between refueling (running out leaves you in the dark)
Requires regular maintenance.
Lesser known brands can be of extremely low quality and are not reliable.
Can be a target for thieves even while running.
Without our professional help, you and your portable generator may face:

Very limited use of your electrical system
Portable cords running through doors or windows to a few critical appliances
No or only portable lighting
If you connect to your home's electrical system, it may be connected in a hazardous and non code compliant manner.
Standby Generators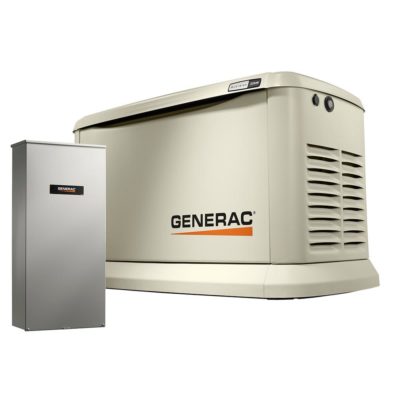 Pros:
Start automatically within a few seconds of a power outage occurring.
Stops automatically when power is restored.
No need to refuel, as it is directly connected to your home's Natural Gas or Propane source.
Typically you can run nearly anything in your home although, with a smaller unit, maybe not all at once.
With a larger generator, it can supply power to your entire home, and you can run it all at once.
Weekly self diagnosis, alarming you when maintenance is needed.
Made to live outside where they are installed and ready to go.
Cons:
Much more expensive than portable generators
Substantial additional (professional) installation costs
Which Type of Generator Is Right For Me?
If system cost in not a problem, it is easy to see from the lists above, that a Standby Generator wins the day for convenience, reliability, and safety. The only "Cons" involve their higher total installed cost.
If you are in good physical shape, understand how to use a portable generator, can overcome the long list of "Cons" above, plan to plug in a few extension cords that would supply power to a refrigerator, or a fan and a few lights during a power outage, the portable generator option wins as the best bargain to do the job.
There are other considerations.
Choose a Portable Generator for Limited Emergency Power
The portable option is almost always the least expensive option.
If you can overcome and live with the list of bullet point "Cons" above, we can make the numbered 1-4 "Cons" disappear.  We are one of the few Contractors in the area that specialize in the installation of portable generator connection points and inexpensive transfer mechanisms. With our installations you can connect your portable generator to a single connection point on your home and use virtually any light fixture, or appliance in your home.
The size of the generator dictates how much of the larger systems or appliances you can run at one time. You may not be able to run everything you want, but you should purchase a generator large enough to run everything you need to run at one time.
It should be noted that before installing a standby generator for my own home, I powered my entire 3,600 square foot home using only a 3,500 watt portable generator. No air conditioning or clothes drying was possible while powered by this small generator, but we made no other concessions and lived without much care for days at a time.
There are larger portable generators (up to 15,000 watts) that would enable you to run most everything you would need. Caution: the larger a portable's capacity, the larger and heavier the generator is. A 15,000 watt portable generator is a beast to move and handle.
Special note: If you are connecting a generator to your home's electrical system, a transfer switch of some sort is essential. Without a transfer switch a "back feed' can occur, electrically energizing utility company lines that are assumed to be un-energized by utility electricians working on restoring power to the neighborhood. Injury and even death can and has occurred. PROFESSIONAL INSTALLATION IS RECOMMENDED!
Choose a Standby Generator for Immediate, Worry-Free Power In an Outage
If you live in an area where power outages occur frequently and you'd feel better having instant power during an outage, the standby generator would be your best option. Or, if any of the "Cons" listed for portables are more than you can or wish to deal with, a Standby is the best option.
When a professional electrician installs your new Standby Generator, you need not worry about power outages again. The standby generator will run weekly self diagnostic tests to make sure it is ready to take on whatever Mother Nature sends your way. The initial cost of the standby generator will quickly be forgotten while you and your family enjoy your home as if an outage never happened or sleep comfortably through the night without even knowing that an outage had occurred. Often the peace of mind that is gained by a head of household who is not always home, yet knows the family will be able to function and be taken care of, is worth the price of a Standby Generator.
Call Webster Electric for Generators in Kalamazoo
There are many different variables to consider when choosing between the 2 categories of generators and many options within each category. If you live in or near the Kalamazoo Michigan area, are in the market for a generator, or would like help properly installing a system to best utilize your existing portable generator, we will gladly walk you through the your options. If you want to consider our services, we will be happy to produce a proposal with cost estimate at no charge to you.
Our licensed residential electricians have installed many generators and systems since 1986, the year of our founding. We have seen firsthand how relieved homeowners are once they know they have a plan and a system in place to power through the next outage… no matter the season!
Give us a call at (269) 388-3110 or Click Here to be directed to our request form on our website. We look forward to assisting you!