Knob-and-tube wiring (K&T) was an early method of wiring in buildings in common use in North America from about 1880 to the 1940s. The system is considered both obsolete and a safety hazard.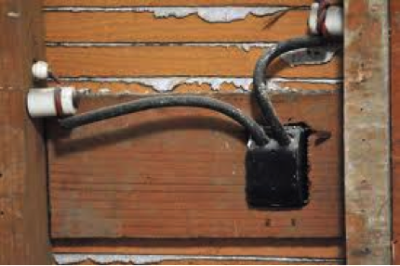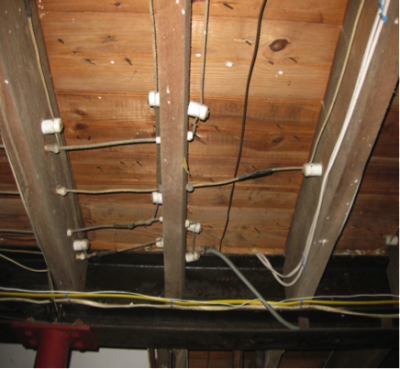 Electricity is a powerful and potentially destructive force. We bring it into our buildings to do work. We do our best to tame and control it, but are never 100% successful. Even a properly installed modern wiring system built today has some level of risk associated with it. That level of risk increases greatly if the system contains even a small amount of K&T wiring. We can reduce, but not eliminate risk associated with a K&T system if it is minimized and modified by a licensed professional electrician that is familiar with this very old wiring method.
Facts About Knob-and-Tube Wiring:
It is inherently more hazardous than modern wiring. The dangers from this system arise from its age, improper modifications, susceptibility to physical damage, and situations where building insulation envelops the wires.
It has no bond wire (aka ground) and thus cannot service any three-pronged outlets or appliances.
While it is considered obsolete, there is typically no code that requires its complete removal.
It is treated differently in different jurisdictions. In some areas, it must be removed at all accessible locations, while others merely require that it not be added to or installed in new construction.
How Knob-and-Tube Wiring Works:       
K&T wiring consists of insulated copper conductors passing through drilled holes in wood framing via protective porcelain insulating tubes. The conductors are supported along their length by porcelain knobs nailed or screwed to the wooden structural components of a building. Where wires enter a wiring device, such as a lamp or switch, or where pulled into a wall, they are protected by flexible cloth or rubber insulation called "loom."
Problems Associated with K&T Wiring:
Unsafe modifications are far more common with K&T wiring than they are with nonmetalic sheathed cable (aka Romex) and other more modern wiring systems. Part of the reason for this is that K&T systems are so old that more opportunity has existed for improper modifications.
Junction boxes were often not part of the original installation, so scraping away of the insulation and wrapping copper around copper was an oft used method of attaching desired expansions to the original system. This type of connection often leads to a high resistance connection prone to heating and degradation. Problems at conductor connection points are not contained inside a junction box, thus making fire a more likely result.
The conductors tend to stretch and sag over time.
K&T wiring is often spliced with more modern wiring incorrectly by amateurs.
It lacks a grounding conductor. Grounding conductors reduce the chance of electrical shock to humans, damage to sensitive equipment, and fire.
Compared with modern wiring insulation, K&T wiring is less resistant to damage.  Flexing the wires may cause insulation to crack and peel away.
Older systems contained insulation with additives that may oxidize copper wire.
In older systems, wiring is insulated with varnish and fiber materials that are susceptible to deterioration.
 Building Insulation:
K&T wiring is designed to dissipate heat into free air, and building insulation will disturb this process. Insulation around K&T wires will cause heat to build up, and this creates a fire hazard. The 2008 National Electrical Code (NEC) requires that this wiring system not be covered by insulation. Specifically, it states that this wiring system should not be in…
hollow spaces of walls, ceilings and attics where such spaces are insulated by loose, rolled or foamed-in-place insulating material that envelops the conductors.
Local jurisdictions may or may not adopt the NEC's requirement.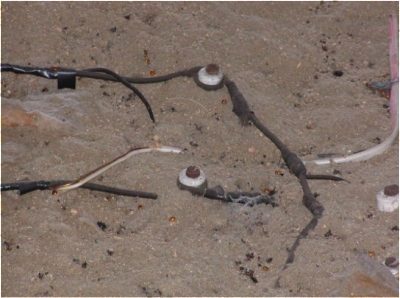 Modifications:
When K&T wiring was first introduced, common household electrical appliances were limited to little more than toasters, tea kettles, coffee percolators and clothes irons. These systems often served only a single light bulb in most but not all rooms of a home. The electrical requirements of mid- to late-20th century homes could not have been foreseen during the late 18th century. Existing K&T systems are notorious for modifications made in an attempt to match the increasing number of electrical devices and current flow required by televisions, refrigerators, and many other electric appliances. Many of these modifications were made by insufficiently trained handymen, rather than experienced electricians, whose work made the wiring system vulnerable to failures, both minor and catastrophic. The photo above shows newer wiring wrapped onto an old K&T system.
Many homeowners adapted to the inadequate capacity of K&T wiring by installing fuses with overcurrent ratings that were too high for the wiring. The result of this misapplication is that the fuses would not blow when they should have and the wiring would suffer heat damage due to excessive current being carried by the conductors.
It is not uncommon to find wiring connections wrapped with large quantities electrical or other types of tape. As if an excessively large ball of tape will somehow improve the quality of the connection the tape is concealing.
K&T Wiring and Homeowners Insurance:
Some insurance companies refuse to insure homes that have knob-and-tube wiring due to the risk of fire. Exceptions are sometimes made for houses where an electrical contractor has deemed the system to be safe. Other insurance companies do not concern themselves with the type of electrical system in a home.
 Advice for those with K&T wiring:
Have the system evaluated by a qualified electrician. Only an expert can confirm that the system was installed and modified correctly. They can determine if it may be subject to use beyond its safe capacity.
Completely rewiring a house can take many days, involves opening at least some walls and ceilings, and cost thousands of dollars. It is the absolute

best

way to deal with K&T wiring, but is not the only option.
The

next best

 option is to remove as much of the knob and tube as possible, replacing it with modern wiring. Then an attempt should be made to remove as much known electrical load from the K&T system (appliances, large lighting loads, and outlets that may be used heavily). We then feed all receptacle outlets in the home with modern wiring. It is impossible to predict what device may be plugged into a particular receptacle outlet.
An electrician should remove and replace any Knob and tube wiring before it is covered with building insulation.
Prospective home buyers should get an estimate of the cost of replacing K&T wiring in a home they are considering. They can use this amount to negotiate a reduce price for the house. They will be tempted to use the price reduction for other purposes, but would be well served to

get the K&T wiring problem repaired

.
 Summary:
In summary, knob-and-tube wiring is inherently less safe than modern wiring systems. Only an experienced electrical contractor can help you identify just how unsafe a particular system may be. Anyone buying, selling, or living in a structure that uses K&T wiring as part of its electrical system should be aware of the level of risk they may be dealing with. Having said that, there are no guarantees. Homes burn every day. Since no one could possibly inspect every inch of any system (behind walls, above ceilings), we cannot know for certain if a potential problem does or does not exist. So complete removal and replacement is the only method to take risk to near zero. Anything else is and improvement with some unmeasurable risk left intact.
We can provide a FREE PHONE or ON SITE CONSULTATION and a FREE ESTIMATE* of the cost to eliminate or reduce this problem. We promise no high pressure sales tactics will ever be used.
Call today! Webster Electric – (269) 388-3110

*Free estimates are restricted to those that own homes or buildings. Others may be charged a nominal fee that will be refunded if the estimated work is ordered.