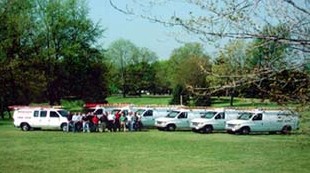 Webster Electric is the top choice for electricians in Kalamazoo, MI for quality, safety, reliability, and service.
Webster Electric was founded by Ronald Webster as a one-man operation in 1986. We grew in size, revenue, and stature as the community we work in became more and more aware of our high quality work and customer focus. We incorporated in 1993 becoming Webster Electric, Inc.
It has been our pleasure to serve many thousands of customers in our thirty plus years of existence. We are very proud and blessed to be able to count a number of our first customers, from thirty years ago, as current customers today. We believe this is directly related to how we treat our employees and the customers they serve, both groups being greatly and equally valued as the foundation of our organization.
We strive to serve our customers in a way that builds long lasting relationships through trust, based upon first-rate performance and ethical practices.  We continuously preach the importance of doing high quality, professional, and safe work, even if profitability must be sacrificed in order to achieve the proper result on a particular project.
We have been operating from our current location since 1993 and we have grown from that one-man operation at our founding to the twenty plus person electrical company we are today.  Ron is still at the helm of our thriving company, training and shaping our staff of managers and electricians. Our loyal employees' tenures range from new hires to well over 20 years which serves as a testament to our dedication to their personal goals and welfare.
Our trained electricians work on a wide variety of new buildings, major and minor remodels, and projects of all sizes.  We maintain an active service department and make repairs large and small for anyone that needs our help.  We maintain a 24/7/365 emergency service for all existing and new customers. Just call our main phone number after hours to be connected.
If you call during regular business hours (Monday-Friday, 8:00 a.m. – 4:30 p.m) you will never be subjected to an answering system.  When you call you will be greeted by our helpful staff each and every time. Website and email communications are handled promptly. We are eager to answer questions and help you solve your electrical dilemmas.
We have been in business so long that it sometimes seems we have worked in every commercial building and at least half the homes in our Kalamazoo/Portage area. This is where most of our work is performed, but we have worked as far North as Cadillac, East to Port Huron, South to the border, and West to the lake. Our customer database contains over 13,000 individual customers and 34,000 individual projects performed since the year 2000.
A partial list of some of our more prominent customers that use us regularly:
Amy Zane Jewelry
Airway Fun Center
Anytime Fitness
Bartholomew Heating and Cooling
BASF
Bond Tool & Engineering
Boonzaaijer Bakery
Callendar Commercial
Coca Cola
Consumers Energy
Corix Utilities
Extreme Clean
Green Door Distilling
Hazelhoff Builders
Hobby Lobby (all SW Michigan stores)
Imperial Beverage
Klein's Bagel Beanery
Menards (both Kalamazoo locations)
Meyer C. Weiner
Naylor Landscaping
Omega Computer Services
Parkview Hills Management
Remax
RX Optical
Schupan and Sons Inc.
Service Master of Kalamazoo
Stewart and Company
Sweetwater's Donuts
Taco Bell
Tesla (certified installers)
VBISD
Walker Parking Consultants
Wired Solutions
Wolgast Restoration
Contact us.  We'd be honored to be your electrical contractor.
The Webster Electric Customer Service Team